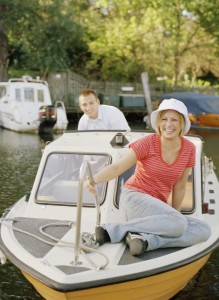 As you might imagine, the ocean and the Lowcountry's other waterways, attract many boating and fishing enthusiasts. Is a love affair with the water why you have your sights set on retiring to the Charleston area? If so, we say good for you! Much of the real estate here provides deepwater access either via neighborhood community docks or properties with their own private landings. And even if you choose a home here that's not on the water, the Charleston area has a plethora of public boat ramps and marinas. The Charleston County Parks and Rec. Commission maintains a comprehensive listing of public launches at ccprc.com.
Many neighborhoods throughout the area either permit you to park your boat and trailer on your property or provide a designated dry storage area for your vessel. And of course, if you purchase a piece of real estate that has a dock and a lift, you can house your craft right on the water.
There's another option here that might be especially well-suited to retirees: joining a boat club. Boat clubs apply the same principles of fractional ownership to watercraft. Members pay an enrollment fee and monthly membership dues for unlimited access to the club's fleet of vessels, somewhat like a country club. Obviously, the fees you pay will eventually add up to more than the purchase cost of a boat, but membership in a boat club can be worthwhile if you're retired and have the time to spend on the water. Plus, you're paying for a certain measure of convenience — freedom from maintenance, logistical and storage concerns. The Charleston area is home to several boat clubs.
If you're considering purchasing Charleston-area real estate as part of your retirement plans, Bob Brennaman can give you a full run-down of your options, from land to sea. This website is a great way to get in touch with him, or you can give him a call. His cell number is at the top of this page.