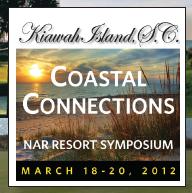 The Resort and Second Home Symposium is scheduled to take place on Kiawah Island next week (Sunday, March 18–Tuesday, March 20). The three-day event is sponsored by the National Association of Realtors (NAR) in partnership with the Charleston Trident Association of Realtors. As "THE premier event for real estate professionals," the symposium attracts industry experts from all over the United States as well as some international visitors.
The event provides excellent exposure for South Carolina — and especially the Charleston area — and really serves to anchor us as a premiere resort and second-home destination. Real estate professionals will enjoy a lineup of nationally known speakers, including NAR president Maurice "Moe" Veissi, of Miami, Florida; Dr. Lawrence Yun, chief economist and senior vice president of NAR and according to USA Today, one of the country's top 10 economic forecasters; and author and luxury real estate veteran David Michonski.
There will also be a trade show featuring services geared toward helping realtors in the luxury and second-home market better serve their clients, tours of Kiawah homes and amenities and an evening tour of gorgeous downtown Charleston. This high-profile event is further confirmation of Charleston's status as a world-class destination.
If you've been thinking about retiring to the South or owning a vacation home here, now really is the time to buy. With a slow but steady recovery in the U.S. housing market on the horizon, prices will only go up from here on out. The Charleston area's economy ranks among one of the strongest in the country, and there is so much to love about the area: a vibrant arts and cultural scene, beautiful unspolied natural places and out-of-this-world food. If you're visiting the Lowcountry and would like more information or even a complimentary tour at  NO OBLIGATION, give me, Bob Brennaman, a call — 843-345-6074. I look forward to speaking with you!